Opening Hours:Wednesdays:
17:00 - 20:00 STLocation:
Alpha-Mist-Ward 10-Plot 29Discord Server
Siren's Call is home to many lovely bards and bands in Eorzea. Looking for a place to relax in a cozy and warm atmosphere? Come for some relaxation and fun times under the melodies of our alluring bards and bands.The Venue is located on the pools of Goblet if you are in need of a dip after a night of dancing and cheering. Siren's Call is ready to welcome you and your friends.
---
Partners & Communities
The Miqo'tea RoomEstablished in 2022, The Miqo'tea Room is the purr-fect place to unwind and relax after adventuring, battling, and crafting.Our tea room is great for those who enjoy socialising and roleplaying with our main focus in creating a calm atmosphere. We offer a unique environment fit for those of us who enjoy a little bit of peace, a place to make friends, and somewhere to just...be.Opening Times
Thursday & Sunday • 4pm - 9pm Server TimeLocation
Light, Alpha • Lavender Beds • W21 P21
An immersive RP venue located next to the beach in beautiful Shirogane - The Silver Duck offers entertainment and fellowship to Eorzea's adventurers.With live bard music, excellent drinks and a warm, intimate atmosphere we promise you a night to remember!Highlights:
- Live bard music and captivating performances.
- Photostudio for all your GPose needs, free to use! Ask the staff for available props.
- Fully equipped bar with alcohol-free options hosted by one of Eorzea's finest bartenders.
- Beautiful VIP-area available for pre-bookings - see "Services".
- Enthusiastic staff that loves to engage with the guests; feel free to use the floor and ask your server for a dance if the music makes you want to do a little jig!
- A menu that is constantly updated to keep your tastebuds fresh.
... and more!
At Phoenix Down, we strive to be open and active, welcoming both regulars and new guests to join in on our fun! Every opening night has a different theme and a new playlist, so it will never be the same experience! SFW and sprout friendly environment for all kinds of players; even those who normally don't like the in-game clubbing scene!
Check our website for the next theme!
Endless Nights is a social events community based on Zodiark. With several venues and multiple recurring events, we strive to provide the players on the Light datacenter with quality events to roleplay and hang out at.
In addition to hosting our own venues and events, Endless Nights also serves as a hub for other venues and hosts to bring their ideas to the masses.
Our Alluring Bards
Hello Everyone!I am Shinkou Moonlight from Light - TwintaniaA Solo Bard who plays anime,game and movies music.
Name's Ver, Blubry Ver. Out of Phoenix, Light.Here's a novice player, training in jazz and ambiguously lounge solo performance. Order your favourite drink, find a cozy seat, lean back and enjoy some relaxing tunes.Feel free to come and say hi, before or after the show. Enjoy! ~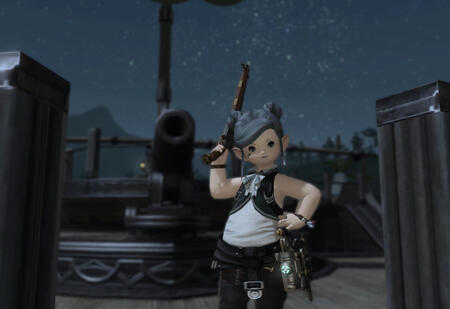 The Chi-Chi sisters:Chie Momoka - Older sister, leads the band, likes cute and fluffy things, can be a goofballChina & Chika Momoka - Fraternal Twins, polar opposites, Chika is calm and collected, brooding type while China is more energetic, hot-headed and outgoingChisai Momoka - A stepsister to other three, adores other sisters but is shy and reservedJesuus Chriist - Came once as a guest to bring holiness into the music and stayed ever sinceChili Momoka - The youngest sister, cute and friendly, always happy to help, natural optimistChirese Momoka - Confident, open and extravertic, full of ideas and ambitiousChila Momoka - Calm personality, rarely shows emotions, but has a big heart
Yunna Khan"Each plug of string, light as feather,
Each strum of chord, flows as stream;
Diverse in styles, ever changing theme,
Weary travelers, have a seat and dream."- Yunna, with manual performance as creed.
Management
Artemis LuanThe main reason the venue exist. He likes to sociallise so don't hesitate to chat him up.
Staff
Host
Kuwa KusakariEasygoing, warm, but at times forgetful. Enjoys meeting and chatting with people. Willing to help anyone in need. Gives out pats regularly, no one is safe.Fire IV is my favourite thing.
Yuki MusayashiYuki is known throughout the realm for his love to socialize with all sorts of people. This cat is always up to have some fun whether people are experienced RP-ers or complete beginners. He has an avid energy drink addiction which leads to him sometimes getting the cat zoomies. Has a severe love/hate relationship with Blackjack.
Rheyana YrethRheyana, a beacon of kindness, dances through the room, effortlessly serving your favorite drinks while tending to your every need. Her attentive nature is matched only by her genuine care. An empathetic listener and champion of mental well-being, she's dedicated to making your evening absolutely unforgettable. In her company, you're not just a guest – you're cherished and valued, creating a truly exceptional experience.
Bartender
Even GrimtaleDo not be afraid to approach for a little chat or RP. Siren's Call first bartender is sure to bring some smiles on your faces as she shakes, stirs and serves your drink.As long as you are kind and respectful she wont show her claws.Do not take pictures without approval, please!
General Information
Rules that apply for everyone
It is important to us that everyone feel welcome and accepted for who they are at our venue.
We have zero tolerance to hateful or inapproriate behaviour.Common sense and Final Fantasy XIV TOS applies
If anyone is making you feel uncomfortable, please reach out to any of our staff members via /tell.Patrons of the venue should not run, have minions or weapons out. Safety always comes first!
Should I RP?
RP is not mandatory. We want everyone to feel welcomed and have fun. Do not worry if you have 0 experience in RP our staff will surely be happy to have a chat with you.
How to play in the bar?
You can message Artemis on Discord to apply to play on our stage.
All the details will be ironed out in private messages.
Want to be treated like a god?
If you wish to enhance your experience within our venue we offer 3 packages you can choose from with different perks.
| Package | Bronze VIP | Silver VIP | Gold VIP |
| --- | --- | --- | --- |
| Bar Seat Reserve | ✔ | ✖ | ✖ |
| Table Reservation | ✖ | ✔ | ✔ |
| Free drink for the night | ✔ | ✔ | ✔ |
| Free drinks for the whole night | ✖ | ✔ | ✔ |
| Companion for 30 mintues (if desired) | ✔ | ✔ | ✔ |
| Bring a friend to enjoy the perks with you | ✖ | ✖ | ✔ |
| Price | 55 000Gil | 100 000Gil | 200 000Gil |
The Gold package includes a +1 to share all the perks with.